Hyve — A place to live, sleep and work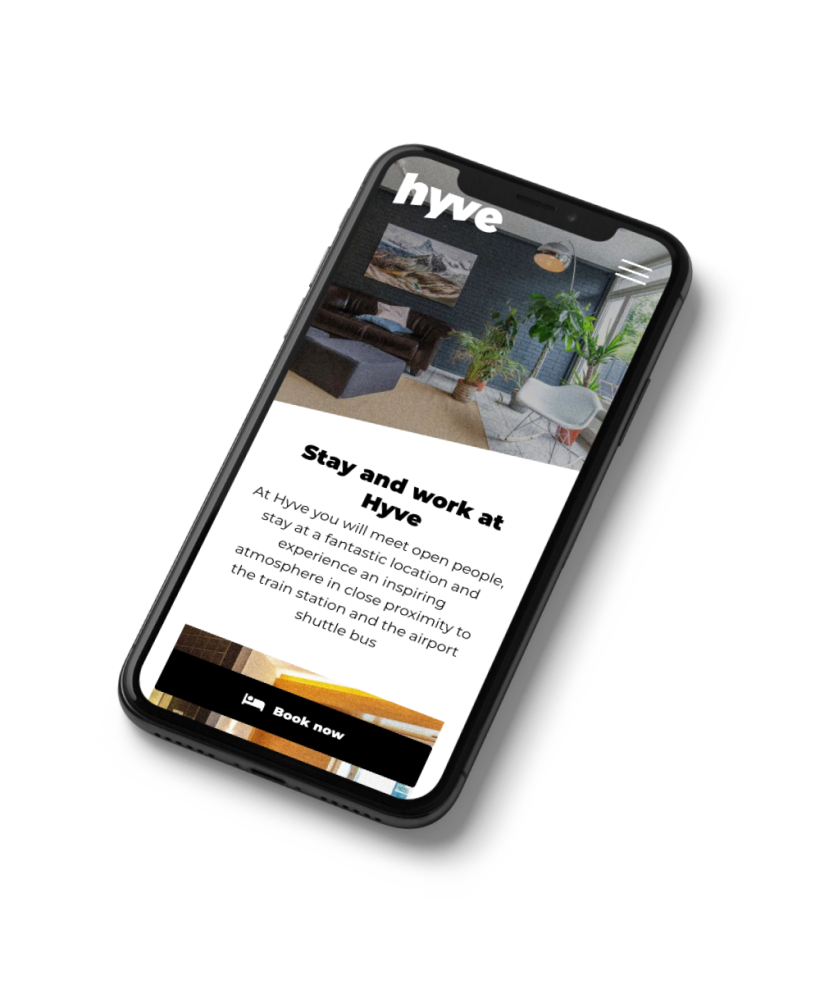 Hyve is a hotel, hostel, and coworking space in Basel, Switzerland. As part of a company-wide process of repositioning and branding, I created an overhauled web experience in close collaboration with my partners, to reflect the new brand and increase the conversion of direct bookings.
Client

Hyve

Role

Lead Art Director, UX-Design, UI-Design, Development

Partners

Basel West, Visuelle Fabrik

Release

February 2019
In the discovery phase, we spotted three main issues that demanded our attention. At hand was the implementation of the new branding and a well overdue refresh of the overall design of the UI. But the main problem we desperately had to solve was the low number of direct bookings on the website.
To solve this challenge, we put our focus on a straightforward user experience while incorporating a sleek, clean, and distraction-free design. Additionally, we decided to pursue a compelling pricing strategy to increase the chances of conversion by giving a 20 % discount on all direct bookings.
The direct bookings on the website record a remarkable growth of 75 %, with an average increase from 8 % to 14 %. These numbers show that the new user experience and the refreshed design resonate with the users and that they welcome the competitive pricing strategy with success.
The growth of direct bookings by a significant 75 % speaks for itself. Michael is an excellent partner and expert in his field. Working with him was a pleasure in every aspect. Highly recommend.
Joe Imholz Founder of Hyve
Stay, Work, Hyve
The home page features a grid of three blocks, presenting an overview of Hyve and making it easy to dive into the desired direction.
Choosing a room
Hyve offers a variety of rooms in four different categories. Each category features a unique character and makes Hyve the perfect place for a very diverse clientele.
Accessible booking bar
The user can book a room from any page using the fixed booking bar at the bottom of the screen. This is making the booking process super accessible and increases the chances of conversion.

Taking the tour
Good pictures play an important role in decision making when choosing a place to stay. Which is why we're offering a tour through the communal areas and the rooms of the hotel and hostel.
Explore other cases
Read other cases where I helped companies achieve their goals through tailored solutions.
Let's have a chat
Do you want to take your business to the next level or start a new project?
Shoot me an email